05 Oct

50 Innovators of the Year 2022 for CIO Bulletin
What business isn't interested in technology thatcan help increase efficiency and productivity, while simultaneously helping to improve the safety of their vehicles and drivers? Well, MAGIIS is turning these dreams into a reality. They are beginning to revolutionize how businesses strategize and coordinate their workforce.
The MAGIIS technology offers businesses of all shapes and sizes multiple benefits. For a start, it allows them to monitor operations efficiently, serving as a digital blueprint for promoting efficient and safe driving. This can help to decrease risk and drive down costs; a win-win. In many ways, it has become an essential tool for businesses.
We introduce you to MAGIIS whose goal is to globally empower the Independent People Transportation industry by providing a world-class platform to bring companies full automation and unlimited scalability while driving a secure and sustainable mobility and creating a world where all Independent People Transportation companies are able to utilize high-power, industry-built tools to further their business goals.
We had a talk with Leonardo Gannio, Founder & CEO, for more insight of the company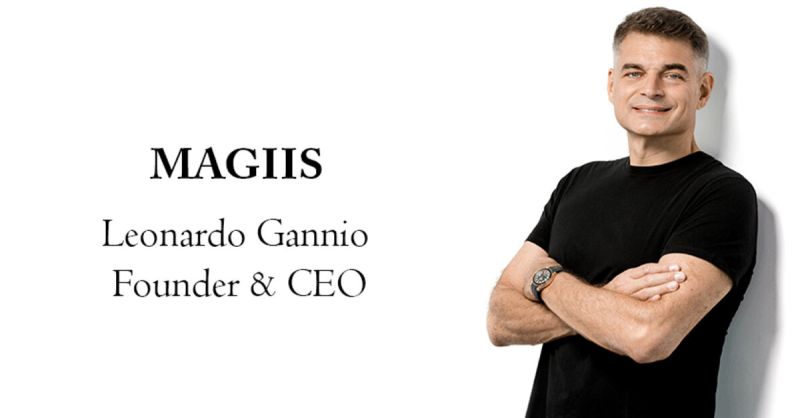 Q. How innovative is the organization?
At MAGIIS, we deliver best-in-class no-code solutions to empower independent mobility companies to operate and win in the digital worlds of today and tomorrow while we continue to develop our platform to support all future business needs.
The Independent People Transportation Industry had very little evolution during the last 50 years until technology disrupted the way passengers request, reserve, and track their rides. This is only the first step toward a massive transformation in the following years.
The future of people's transportation will be Electric, Autonomous, Connected and Personalized; our vision is to enable connection and personalization within the future infrastructure of global mobility while covering all the new and exciting transportation methods.
Q. How do you go about business model innovation?
MAGIIS is Software as a Service platform, and to make it affordable for our customers, we developed a business model with two flavors,
One is pay-per-use of 5% of the customer invoicing, enabling affordability.
The other is a subscription-base (# of vehicles or # of transactions), which becomes more cost-effective for larger independent mobility companies.
Our business model allows us to look ahead at all the industry innovations and plan accordingly. Our first milestone was to deliver a platform that can seamlessly deliver on all independent businesses and their passengers' needs, and we have already achieved this milestone.
We spend a lot of quality time listening to our customers so that we can understand their pain points and solve them. So our platform can help the industry innovate faster by having the technology tools needed to support all new business models.
Q. How do you organize for game-changing disruption?
We organize for a game-changing disruption by having a 360° view of all the participating parties in the independent mobility industry. We always begin with the passenger, asking ourselves how we can make the passenger exceed its experience, from the pick-up and drop-off within a ride.
We then analyze the needs of the independent companies, deliver on the passenger's expectations, run their business as automated as possible, and monitor their key performance metrics 24/7 if needed.
Finally, we look at every new transportation method that will be available in the future (Hybrid, autonomous, eVTOL – Electric Vertical Take-Off and landing, etc.), the new consumption models, and start developing the tools for the future.
Q. How committed are you in delivering reliable solutions to customers?
Delivering reliable and innovative solutions is all we do! Before each new version of our platform goes live, we spend endless hours testing our platform to ensure that everything has the highest worldwide quality standards.
Shed light on your platforms and tools.
MAGIIS is a Software Platform that allows Independent Companies to offer Data-Enabled Mobility.
Our no-code solutions empower independent mobility companies to operate and win in the digital worlds of today and tomorrow.
We are reshaping the Independent Mobility Market by empowering the Business Owners with the First White Label Infrastructure solution that fully automates all the business processes. At the same time, streamline the back-office and be socially sustainable. We foster strong business owners and high-quality employment. We are the SHOPIFY for the Independent Mobility Business.
Q. Why should MAGIIS be the first choice over others?
MAGIIS is not only the best-in-class platform in the independent mobility industry but far more relevant is that MAGIIS is on a constant evolution. We never stop innovating and improving our products and solutions. We have developed an end-to-end solution for the Post-Digital Economy where building and maintaining independent mobility ecosystems is vital to compete and win against the TNCs (Transportation Network Companies – Uber, Lyft like companies).
We are miles ahead of our competitors, but we continue to focus on being better every day.
Q. How does MAGIIS help mobility companies shine?
MAGIIS allows all the Independent People Mobility Companies to be at the forefront of technology. By combining their excellent customer experience during each ride, with our best-in-class technology has become a game changer for all our customers and the passenger experience has improved dramatically. What used to be their biggest weakness, since most independent mobility companies had very little to no technology, has now become a competitive advantage.
———————————————————————
Leonardo Gannio, Founder & CEO
Leonardo is an industrial engineer by training and has worked in the technology industry for 25 years. He has held leadership positions for the Latin-American region in multiple multinational corporations. Leonardo's last endeavor was AKTIO, one of the leading Value Technology Distributors in Latin- America. It was sold to the largest Global US distribution company in 2015.
"MAGIIS's non-code software platform can be tailored to suit specific needs, roles, and core functions within your independent people mobility company an end-to-end solution with all mobility companies in mind."